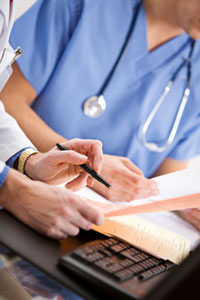 Quick, Effective UTI Treatment Available in Cape May Court House, NJ
UTI treatment should be kept as simple as possible. At Cape Regional Urgent Care, we make it our goal to streamline each patient's visit to our office, whether it's for addressing a urinary tract infection or any of life's other common maladies. When you walk into our office in Cape May Court House, New Jersey, you'll be able to receive a quick diagnosis and personalized UTI treatment from our knowledgeable medical professionals.
Urinary tract infections can cause a variety of symptoms, depending on how far the infection has progressed. For example, a bladder infection may be characterized by discomfort in the pelvic or abdominal areas, while a kidney infection can cause pain in the upper back and sides, as well as fever and chills. In order to determine if you have an infection and its severity, our physicians will ask about your symptoms and may order some tests at our in-house lab.
When you turn to Cape Regional Urgent Care for your UTI treatment, you can expect to see:
Our dedication to convenience – We are here for you every day of the week, and we offer longer hours than a typical primary care physician's office. Plus, we never require our patients to make an appointment.
Our consistently excellent treatment – You will be seen by an actual physician during your visit, so you can be assured that you're receiving UTI treatment from highly qualified professionals with years of experience.
Our welcoming attitude – All of our staff members are committed to answering your questions and making your entire experience as convenient as possible, from the time you walk through the door until after you leave.
If you think you need UTI treatment, feel free to walk into the Cape Regional Urgent Care location in Cape May Court House, NJ today. You can also contact us with any questions about our services or the insurances that we accept.