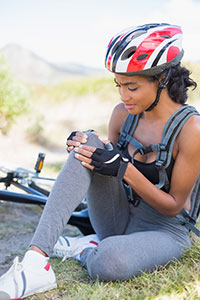 Advice on Treating a Common Sports Injury in Cape May Court House, NJ
For sports participants, injury is just part of the game. One hard tackle, misplaced step, or off-kilter pitch and you're sitting on the bench or, in more severe cases, heading to the hospital. Many of the most common sports injuries experienced by participants in the Cape May Court House, New Jersey, can actually be prevented by taking precautions. For example, there's a reason why workouts typically open with stretches and close with cool-downs. The muscles and ligaments need to be stretched out before you place stress on them by running, jumping, and twisting, otherwise they stand to be damaged. It's also essential that you utilize the equipment necessary to protect the body, especially properly fitted footwear.
Even with these precautions, however, a sports injury can occur. The most common of these include:
Muscle strains
Ligament strains
Knee injuries
Bone fractures and dislocations
Shin splints
Whenever any such sports injury occurs, it's vital to stop practicing or playing to address it; pushing any further may cause additional damage. For more minor injuries, using the RICE (Rest, Ice, Compression, and Elevate) method on the field and at home is typically sufficient treatment. However, some conditions require professional medical care, including urgent conditions (loss of consciousness, head or neck injuries, etc.) that warrant a trip to an emergency room, as well as moderate issues that don't. For injuries that fall into the moderate category – which can include any sports injury with swelling, pain, numbness, or tenderness at the affected area, patients can turn to Cape Regional Urgent Care for help. Our clinic, which is conveniently located in Cape May Court House, NJ, is equipped to treat a range of sports injuries. Plus, we're open from 9 a.m. to 8 p.m. every day, with no appointment necessary to receive prompt medical attention for a sprain, strain, minor fracture, or other such sports injury.
If you or your child have suffered a sports injury that requires medical care – but not a trip to the emergency room – you can turn to Cape Regional Urgent Care. Contact us today for more information, or stop by our location.