When vacations go awry, care centers, pharmacies step up
Posted: August 23, 2015
CAPE MAY COURT HOUSE – Luke Feltmann, 7, was having a good week.
There the Bergen County boy was, staying at a rental house in Avalon with his extended family, playing with his cousins, splashing in the pool and surf. On top of all that, he cashed in big time with the Tooth Fairy – seven bucks.
But then he fell into the dreaded Owie Zone:
He awoke in the middle of the night with an earache, a long way from his home doctor. What to do?
His mother, Laurie, got on Google. The next morning, Luke and his parents were at Cape Regional Urgent Care in Cape May Court House, being seen by a friendly doctor even though Luke still looked miserable.
"It's a drag because you want to be in the sun, and you want to enjoy the weather," Laurie said.
No one wants to need medical care on vacation, but illnesses and injuries happen.
Hence in the summertime, Shore town pharmacies do a brisk business with out-of-towners seeking over-the-counter remedies. Beach patrols dispense lots of first aid, have medics on staff, and are ready to call ambulances if more help is need. Urgent care center patient loads swell.
"We're seeing triple-plus what we get in the winter," said Kris Gereaghty, nurse manager for Cape Regional Urgent Care. "We're seeing 100-plus patients a day."
Anything can and does happen, but certain ailments are common.
"With the heat this summer, we've had a lot of heat exhaustion," said Tom Mullineaux, operations chief of the Ocean City Beach Patrol.
This summer, the patrol has had few of what Mullineaux called "splinter situations" with boardwalk strollers. A decade or so ago, for some reason, it was much worse, he said.
"It was like they had boards in their feet," he said.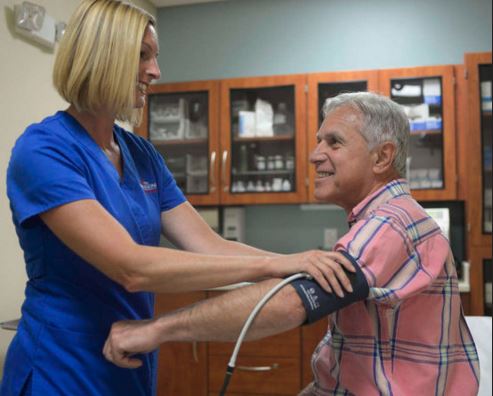 Other vacationer issues are jellyfish and insect stings, feet cut on rocks, sports injuries, and what some in health care refer to as "swimmer's rot" – chafing from walking around too long in wet swimwear.
The Ship Bottom CVS on Long Beach Island, the chain's busiest Jersey Shore store, created displays that gather together frequently sought products for main summertime complaints.
At the top of that list, said CVS spokesman Mike DeAngelis, are swimmer's ear, poison ivy, diaper rash, sunburn, and sea sickness.
But what's the biggest thing Shore visitors come in for help with?
That would be getting a temporary supply of medicine they forgot at home, DeAngelis said.
Lots of the beachgoers will ask pharmacists for advice. Most of the vacationers, even if under the weather, try to be good sports, according to Shiv Parikh, a pharmacist with one of the Wildwood Rite Aids.
"A lot of them are pretty understanding," he said. "They're trying to enjoy themselves, and they're upset because something went wrong."
And sometimes that brings them to the urgent care centers.
As pleasant as it was, with HGTV on one television, the Disney Channel on the other, and lots of magazines, the children and adults who nearly filled the waiting room of Cape Regional Urgent Care one day this summer probably had other places they would rather have been.
The staffers strive for fast service. The average total visit time is 55 minutes, said John Ruskey, the urgent care center's medical director and an emergency room physician with Cape Regional Medical Center, an unrelated facility across the street.
"Vacationers don't want to ruin their vacation," Gereaghty said. "They want to be seen, get their prescription, and get back to enjoying themselves."
To help accommodate, the urgent care center doubles its staff in the summertime, from about five people to 10, she said.
School and sports physicals help keep them busy. Some vacationers put them off; others figure they will be seen more quickly than if they wait for an appointment with their home doctors.
On the malady front, they see a lot of upper-respiratory complaints. That and ear woes.
"Ears are hot," Gereaghty said.
Peter DiNicola was one of the upper respiratories.
"I was in the Windrift [hotel-restaurant] last night. I was coughing," he said.
A former Pennsylvanian and now a self-described snowbird, DiNicola lives nine months of the year in Sarasota, Fla., and summers at his place in Stone Harbor.
He was glad for the urgent care.
"It's fabulous for me," said the sales and marketing retiree. "It's time-saving. It's convenient. That's the most important thing."
Jillian Ocken, 15, and her father, Robert, of Essex, Conn., were in Examination Room 4, waiting for a prescription for eyedrops. Jillian was sporting a nice tan from her days in the Wildwood sun, gold flip-flops and a teary, hurting eye.
"I thought I scratched, and it was really painful. I couldn't blink or open it," she said.
It was an unwelcome interruption in an otherwise fun time of beach, shopping, and water parks.
Her dad, an IT supervisor, said initially he turned to the medical center but the hospital staff directed them to the urgent care facility.
"The wait is a lot less," he said.
Theresa Warman, 68, of New Holland, Pa., was satisfied with the urgent care, but not with having to be there.
"It's a drag," said the retired New Jersey state worker, who was staying at the Ocean View Campground. "It's 12:20. I could have been on the beach."
A urinary tract infection brought her in.
"Before I left home, I knew something was brewing," she said. "You think it's going to go away."
Dina Walker and her daughter Kaitlyn, 8, were in another exam room.
"She has swimmer's ear after being in the pool a week and a half. I wasn't really surprised," said Walker, a stay-at-home mom. The Jamesburg, N.J., family and Walker's sister's family were staying with their parents in Avalon.
When the ear flared up, Walker promptly extracted Kaitlyn from her cousins and got her to urgent care.
"There's no sense," she said, "in being miserable on vacation."
---
Urgent care centers a growing part of health care
Posted: Saturday, August 2, 2014 6:00 am
By ELISA LALA Staff Writer
CAPE MAY COURT HOUSE —Every seat in the waiting area of the Cape Regional Urgent Care Center was occupied by a person either flipping through a magazine or playing on their cellphone Monday morning.
Those without seats stood, including a man in work boots and a T-shirt with cut-off sleeves who was supporting his right elbow with his left hand, another who held his lower back and winced when he walked, and a father who held a little boy who was complaining of an earache.
Margie Gallagher, of Bucks County in Pennsylvania, sat in a tiny chair in the children's area.
"It's the first time I've been to an urgent care," said Gallagher, who has a summer home in Ocean View, just a few miles from the urgent care center in Cape May Court House, and came because of a sore throat she suspected was strep. "It's a lot nicer then I thought it was going to be." She was in and out in less than a half hour.
Urgent care is one of the fastest-growing segments of American health care, an estimated $16 billion business that's expected to increase by 10 percent or 50 to 100 new centers per year over the next four years, according to a report by the Urgent Care Association of America, which conducts a biennial industry survey.
The most recent results released in 2012 reported there to be about 9,000 urgent care centers in the U.S. and 20,000 physicians who practice urgent care medicine, an increase from 8,000 centers in 2008.
Dr. John Ruskey, medical director of Cape Regional Urgent Care, attributes the upswing to long wait times at primary-care offices, crowded emergency departments and patient demand for more accessible quality care, including after-hours, weekend and walk-in appointments.
Ruskey said urgent care centers, which are independent medical centers often located in strip malls and referred to as doc-in-the-box medicine, are also more affordable for both patients and physicians since there's no overhead costs associated with the ER, including expensive equipment, 24-hour care and need for staffing at certain levels.
Cape Regional Urgent Care opened in 2010 and is owned and operated in joint partnership by Cape Regional Medical Center and Cape Emergency Physicians, a group of 11 board-certified emergency physicians, including Ruskey.
Before it opened, Ruskey worked in Cape Regional's emergency room, where he said the majority of patients who came in didn't actually need emergency room care, "but there just wasn't a place for them to go, so we saw that as an opportunity."
Since opening, Cape Regional Urgent Care has seen a 50 percent increase in patients each year, more in the summer because of seasonal visitors, he said. On July 3, 113 patients visited the center, a record for the the highest number of patients at the center in one day.
Shore Medical Center in Atlantic County owns two urgent care centers, one in Northfield and the other in Mays Landing, the latter of which opened in July.
AtlantiCare Physician Group owns or is a majority owner of eight urgent care centers with locations across South Jersey.
Physician and physician groups also own and operate independent urgent care facilities throughout the country.
Kris Gereaghty, nurse manager of Cape Regional Medical Center, said people are sometimes wary of seeking care at a walk-in medical facility located in a strip mall next to a take-out restaurant and hair salon, but once they do, they often become regulars.
"There's free coffee and water, TVs, a children's area," Gereaghty said. "There's nothing negative about it. It's great — and I'm not just saying that because I work here."
Elisa Lala