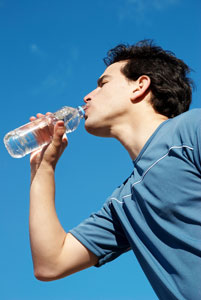 Dehydration Treatment for Cape May, NJ, Residents & Visitors
Dehydration treatment varies in both method and urgency, depending on the severity of the symptoms, the age of the patient, and the cause of the problem. For example, an infant or small child who is dehydrated due to episodes of vomiting or diarrhea will be treated in a different fashion than an adult athlete who is dehydrated after a workout or game. Although many mild cases of dehydration can be remedied with home treatment, those who are experiencing the symptoms of very severe dehydration – such as confusion, ongoing dizziness, dry skin, and even seizures – should receive emergency care from medical professionals right away. People who need help managing moderate, non-emergency dehydration symptoms can seek treatment at Cape Regional Urgent Care, located in Cape May, New Jersey. As the area's leading urgent care provider, we can evaluate and treat patients quickly and effectively for common conditions, including dehydration.
One of the many advantages that Cape Regional Urgent Care offers above and beyond the scope of many urgent care facilities is our ability to provide intravenous (IV) fluids and medication. Solutions containing essential electrolytes given through the veins can rehydrate a person much more efficiently than simply drinking water, so this capability is an important distinction. In addition to administering IV dehydration treatment, there are other reasons for our Cape May neighbors to trust us with their care, including:
Our experience – All of our physicians have been treating patient for 15-20 years or more, giving them the expertise needed to provide dehydration treatment and many other medical services.
Our commitment to convenience – We stay open every day of the week from 9 a.m. to 8 p.m., giving us greater availability than most primary care doctors' offices. Plus, we take walk-in patients, so there's no need to schedule an appointment.
Our patient-centric approach – We always keep our patients' comfort and care in mind, greeting everyone who walks in our door with warmth and answering any questions they have during their visit with us.
Find out more about our dehydration treatment by calling us today, or simply walk into our Cape May clinic for prompt medical care.