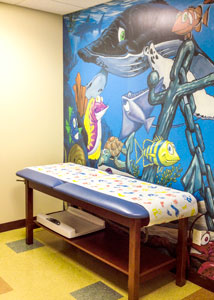 Looking for a Children's Clinic that Serves Cape May Court House, NJ? Cape Regional Urgent Care is Ready to Treat Patients of All Ages
Whether you're seeking a children's clinic to heal your child's bumps and bruises or to address the symptoms of the latest cold that's going around, Cape Regional Urgent Care should be your first choice. Conveniently located in Cape May Court House, New Jersey, our clinic provides a range of medical services for everyone, from infants to adults.
Why should you turn to Cape Regional Urgent Care's clinic for our children's medical care services? Consider all of the advantages that we offer:
Knowledgeable staff – All of our physicians are board-certified with an average of 15 years of experience, so they know how to address children's medical needs when visiting our clinic.
Convenient schedule – Our doors are open from 10 a.m. to 8 p.m. every day, giving you the opportunity to bring in your child during evening hours or on the weekend. Plus, we never require an appointment before you walk in.
Minimal hassle – We know that caring for a sick or injured child can be exhausting by itself, so we make receiving treatment as quick and easy as possible, with onsite lab testing and digital X-rays.
If you'd like to make Cape Regional Urgent Care your children's medical clinic of choice, you only need to walk through the doors of our conveniently located facility. We accept patients without appointments, but you can also contact us to learn more about our services and what to bring with you to your visit.