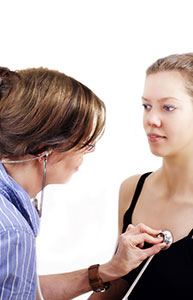 After Hours Urgent Care for Cape May County, NJ, Residents & Visitors
Whether you need urgent care treatment after your primary care provider's hours have ended for the day, or you're in town on vacation and you're not able to see your primary care physician, Cape Regional Urgent Care can address a variety of illnesses and injuries. As the leading clinic in Cape May County, New Jersey, we understand that injuries and illnesses don't stop after typical 9-to-5 office hours, which is why we are open until 8 p.m. every day. Plus, we're also an excellent alternative to the local hospital's emergency room for non-emergency situations. Our services are typically more affordable, and patients with non-life-threatening issues may actually spend less time waiting for treatment when they come to our clinic instead.
We are capable of treating the following illnesses and injuries for our Cape May County patients:
Broken bones
Minor cuts
Kidney and bladder infections
Influenza
Strep throat
Sinus infections
Asthma
On top of addressing these conditions in a timely manner, we can also perform a variety of medical testing and imaging services, including:
Onsite X-rays
Pre-employment screening
Sports physicals
EKGs
No matter why you walk through our doors, you can feel confident that you will have access to our board-certified physicians, who have more than 150 combined years of experience in helping patients. And our entire staff has a warm, friendly attitude, so you can feel comfortable asking us questions about your care or any insurance concerns.
For more information about Cape Regional Urgent Care and the after hours urgent care services that we offer in Cape May County, NJ, contact us today. There's no need to make an appointment to see one of our physicians; simply check in online to let us know you're on your way or just walk into our facility for the medical care that you need.